By Adam Johnson. This article was first published on Fair.
Today putative liberal and mustachioed wonker Thomas Friedman (New York Times, 6/3/15) did what he does best: take something vaguely topical and use it as a hook to promote whatever topic he and his billionaire friends want to propagandize that week.
Whether it's advocating collective punishment of Ukrainians to push his CEO friend's "Green Energy" IPO during its quiet period, or unironically floating the idea of arming ISIS to demagogue Iran, it's a tried and true formula for America's most tedious Important Person.
This morning, however, Friedman reached a new low, exploiting the Baltimore Uprising to run a rather shameless commercial for his wife's charter school organization: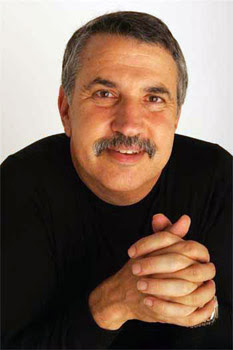 Thomas Friedman
On a warm Saturday in late May 2008, my wife, Ann, talked me into going to an auditorium in Baltimore to watch a lottery. It was no ordinary lottery. Numbered balls were cranked out of a bingo machine, and the winners got a ticket to a better life. It was the lottery to choose the first 80 students to attend a new public college-prep boarding school: the SEED School of Maryland based in Baltimore. (My wife chairs the foundation behind the SEED schools.) SEED Maryland — SEED already had a branch in the District of Columbia — was admitting boys and girls from some of the toughest streets and dysfunctional schools in Maryland, and particularly Baltimore, beginning in sixth grade. Five days a week, they would live at the school in a dormitory with counselors — insulated from the turmoil of their neighborhoods — and take buses home on weekends. Last Saturday, I attended the graduation of that first class.
Put another way: Friedman used the most influential media space in the world to run a totally pointless commercial for his wife's charter school. And it's OK, because he disclosed the commercial. Sort of—he doesn't mention that the SEED Foundation lists him and his wife jointly as a million-dollar-plus contributor.
Ann Friedman, previously Ann Bucksbaum, is an heir to a massive multi-billion-dollar real estate empire. She and Thomas occupy a $9.3 million mansion in south Connecticut. Likevirtually all major charter school backers, they are filthy rich do-goody white people who know what's best for inner-city youth, in this case those of Baltimore. This is swell as far as it goes—but what does this type of pointless self-promotion have to do with anything? Ah, right, we have to shoehorn in the recent uprising in Baltimore to promote this stale brand of boot-strap neoliberalism.
Right away, Friedman paints the image of the type of PR pablum we've grown accustomed to with charter schools' slick PR packaging: "Numbered balls were cranked out of a bingo machine, and the winners got a ticket to a better life." Anyone who saw Waiting for Supermanknows this dramatic image:
There's only one problem: These public lotteries are—and always have been—little more than cynical PR spectacles not required by law, nor serving any purpose other than promotion. This is why they're largely no longer used by charter schools. As Cynthia McCabe of the NEA notedin 2011:
The National Alliance for Public Charter Schools in documents advising its member schools states that it "and charter support organizations around the country strongly recommend that schools publicize their lotteries to demonstrate the strong popularity of charter schools." In a section explaining why these public events are a "wonderful opportunity," the first benefit given is to "draw media attention to the demand for high-quality charters." The document goes on to specify everything from microphone to snack availability ("Families will be more likely to attend if you can present them with reasons that entice them"). It advises announcers on what to say when a name is pulled in the lottery. "'Selected' is preferable to 'winning.'" For the vast majority of attendees who will go home without their number having been pulled, NAPCS suggests sending them a thank you letter for attending and "wish them the very best."
In other words, the whole exercise is a gratuitous marketing ploy. Or as Friedman's New York Times colleague Gail Collins put it in 2010:
Charter schools, please, stop. I had no idea you selected your kids with a piece of performance art that makes the losers go home feeling like they're on a Train to Failure at age 6. You can do better. Use the postal system.
The point of these lottery spectacles is to paint the image of demand: If something is this "selective," it must therefore be valuable. Like Friedman's column, they're neoliberal agitprop designed to tug at our heartstrings while promoting a radical right-wing privatization agenda. And like Friedman's column, they're entirely superfluous. Again, one is compelled to ask: What does any of this have to do with a series of protests and "riots" resulting from a murdered black youth?
The piece reaches peak whitesplaining when pro-charter school Secretary of Education Arne Duncan chimes in and parrots the pernicious tripe that the Baltimore Uprising was the result of "absent fathers":
I asked Education Secretary Arne Duncan what he thought generally about the public boarding school model, which is expensive. He said, "Some kids need six hours a day, some nine, some 12 to 13," but some clearly would benefit from a more "24/7" school/community environment. "I went to Baltimore and talked to teachers after the riots," Duncan added. "The number of kids living with no family member is stunning. But who is there 24/7? The gangs. At a certain point, you need love and structure, and either traditional societal institutions provide that or somebody else does. We get outcompeted by the gangs, who are there every day on those corners." So quality public boarding schools need to be "part of a portfolio of options for kids."
The not-so-subtle implication here: Absent black parents caused the "riots." Not legitimate outrage. Not the brutal killing of a black youth. Not the subsequent lack of an investigation. Not the decades of rampant police abuse. But absent fathers and the catch-all of gangs. This is the type of centrist racist dog-whistling one would expect from the man who once said Hurricane Katrina was "good for New Orleans" because it led to more charter schools.
If only more kids could be funneled into the boarding schools of benevolent billionaires—who, incidentally, get massive tax breaks for running these programs—all would be well with the black community. If only they could educate their way out being targeted by racist police. If only we can keep seeding the Friedmans' pet projects, we would never need to unearth the sprawling, deeply ingrained roots of racism.
---
Adam Johnson is a freelance journalist; formerly he was a founder of the hardware startup Brightbox. You can follow him on Twitterat @AdamJohnsonNYC.