By Vijay Prashad.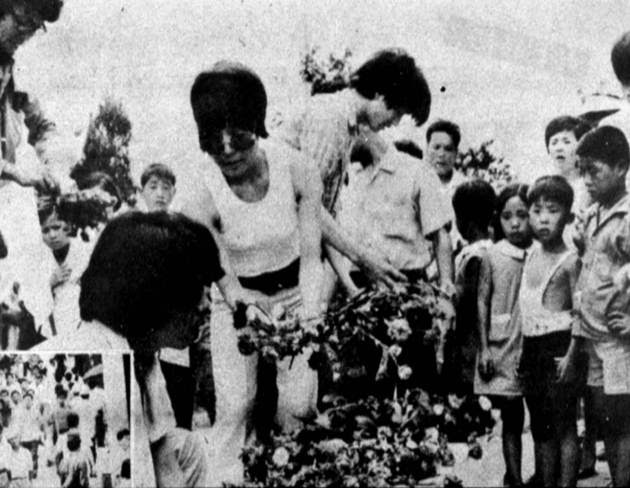 The temperature is high again.
The drum-beat of war from the White House goes in two directions – towards Iran and towards North Korea. These are, if you remember, the two other pillars of George W. Bush's 'axis of evil'. Iraq has already been a victim of regime change. Trump seems keen to follow through on Bush's quixotic promise – to effect regime change in Iran and in North Korea.
But the North Koreans moved their chess pieces in a hurry, testing a thermonuclear or hydrogen bomb. This, essentially, makes a US bombing run on North Korea very difficult. It also makes mistakes very, very dangerous.
At Alternet, I have a short essay on why North Korea's leadership continues to pursue a nuclear weapons strategy. Is this a waste of precious resources or is this an essential part of their means to protect their country from the belligerence of US imperialism? At least the question must be entertained. You can read the report here.
The picture above is from the Funeral Ceremony of the Established Art and Culture held on Liberation Day of 1970 by the 4th Group in Sajik Public Park (Seoul, South Korea). The 4th Group – artists invested in experimental political art – held up the slogan of Muche (zero state, non-constitution) against the degradation of democratic life in the Korean peninsula. Kim Ku Lim, Bang Tae Soo, Jung Kang Ja, Jung Chan Seung and Son Il Kwang held up a white flag of purity and (perhaps) surrender as well as carried a coffin. They were arrested and many went into exile. Better their white flag than the wars that are covered in faux-patriotism.
Morocco, as you might know, has been in the midst of a wave of protests – the Hirak — that began in a fishing town in the north, spread through the Rif region and into Rabat, the capital of the country. This is a neglected uprising, that continues with passion and sincerity. It is hard to call these protestors – as seen above – terrorists, for they have demands that go back a hundred years and expectations that cannot be bottled into the formulas of security and order.
In last Sunday's Hindu – in the travel pages – I have a diary of my journey in Morocco, from the wondrous Fez to the heartlands of the Rif. You can read it here. Please try to follow these demonstrations, for they are against a monarchy that seems unbending to the demands of the people.
It is with great sadness that I report to you that another journalist, another sensitive and sensible person – Gauri Lankesh – has been shot dead in India at her door step. Gauri (1962-2017) worked in Bangalore, where she edited and wrote for the Kannada weekly paper Lankesh Patrike and later the Gauri Lankesh Patrike. She was a principled defender of the press and a sharp critic of caste and Hindutva. Many of our friends have written moving pieces on Gauri. I want to share a short bit written by my LeftWord Books comrade Sudhanva Deshpande, the very evening that Gauri was shot to death:
This evening, Comrade Megha Pansare, Govind Pansare's daughter-in-law and herself a leading activist, visited May Day Bookstore. It was a special feeling giving her copies of our edition of Pansare's bestseller, Who Was Shivaji. I told her about the only time I met Com. Pansare, in Kolhapur, when we had gone there for the release of our volume Selected Writings of Jotirao Phule. This was in 2002 I think. My dad, GPD, was there, as were Prabhat Patnaik and Ram Bapat. I remember the evening well. All four, Pansare, GPD, PP and RB, made scintillating speeches. Later, Com Pansare took us to dinner. 'You must have Kolhapuri mutton', he said. As people left in groups in auto rickshaws, he and I were the last two left. The auto rickshaw that stopped greeting Com Pansare: 'Lal Salaam Comrade', he said. I saw how Com Pansare chatted easily with the auto rickshawallah. I had of course known of Com Pansare before, but that little interaction left me deeply affected. I told Com. Megha of that evening. She smiled. We chatted about this and that. She told me how their family has been coordinating with Narendra Dabholkar's family about the case. But also, I'm sure, though she didn't say it, for emotional succour and support. 'I have no idea where the last two-and-a-half years disappeared', she said. 'It is only now that we are getting a sense of things. We are finally being able to look beyond the case'. She told me how she had studied the Safdar case carefully to see if there's anything they can learn for their own case. 'It took 14 years for the conviction', she noted, her voice trailing off. I didn't know what to say. And I don't know what to say now. As we were chatting, Com Megha and I, Gauri Lankesh was counting her last minutes. About 20 minutes after Com Megha left May Day Bookstore, Gauri Lankesh was murdered.
Please read the essays by Brinda Karat and P. Sainath on the murder of Gauri Lankesh.
We, at LeftWord Books, are hard at work on our next few releases. Please keep an eye out for these:
(1) Alexandra Kollantai, A Soviet Woman: Selected Essays, edited and introduced by Parvathi Menon.
(2) Pinarayi Vijayan, India vs. RSS.
(3) Archana Prasad, Remembering the Warli Struggles: A Contemporary History of Adivasi Struggles in Dahanu and Talasari.
I'll let you know when these are out. The picture above was taken by Margaret Bourke-White for Life Magazine. It is of the Communist leader Godavari Parulekar – who features prominently in Archana's book – at a meeting in the Warli heartland in 1945.